God Bless America.
First off, I'm so sorry I haven't been active and keeping up with my weekly summer dAze ReTreat schedule! I know, I'm behind. I'm sorry. I tried. I'm not perfect. But hey, we all need a break, right?
In this case, I've been taking a break from blogging to write a book I've been working on this summer. This week, however, I've been taking a break from writing by going on vacation with my family. Now, I'm taking a break from my vacation to share my recent purchases with you guys!
I love visiting the States for one reason and one reason only: shopping. Target is the best store to buy CDs (yes, I still buy CDs) because they have exclusive editions that you can't find anywhere else (especially in Canada, since Target is gone and all my go-to CD stores are practically non-existent [If you're in the Toronto area, please comment below some CD stores, I'm in desperate need!]). I also had a very successful trip to Books-A-Million because they have a huge bargain section of popular books and, you know, I can't say no to deals!
I'm pretty sure my mom regrets leaving me at that bookstore.
I have to say, I'm surprised that this was only the second time I ever needed a cart for my books. I thought it was funny though how one of the employees offered the cart to me immediately after finding me browsing the shelves with only a few books in my hands. It's like he already knew I was going to be one of those shoppers.
Yes, please, take my money!
I'm planning on doing another book haul because, boy did I buy a lot of books this summer! I also got a pretty good deal on those books too, which makes them all the more worthy to showcase (I want to promote the idea that it IS possible to buy books at a cheap and affordable price, because, as all book-lovers know, books can be expensive).
So let's begin!
Defy Me by Tahereh Mafi
So this book wasn't in the bargain section but there was a promotion that made this book way cheaper than what I would find in Canada. This book was 50% off the cover price ($18.99 US), which made it $9.99 US (roughly $12.99 CAN, I believe). That's almost half of the Canadian cover price! Not too bad, am I right?
Defy Me is the fifth book in the Shatter Me series. I have read the first three books: Shatter Me, Unravel Me and Ignite Me, plus the Unite Me novella collection. I have the fourth book in the series, Restore Me, but I haven't read it yet.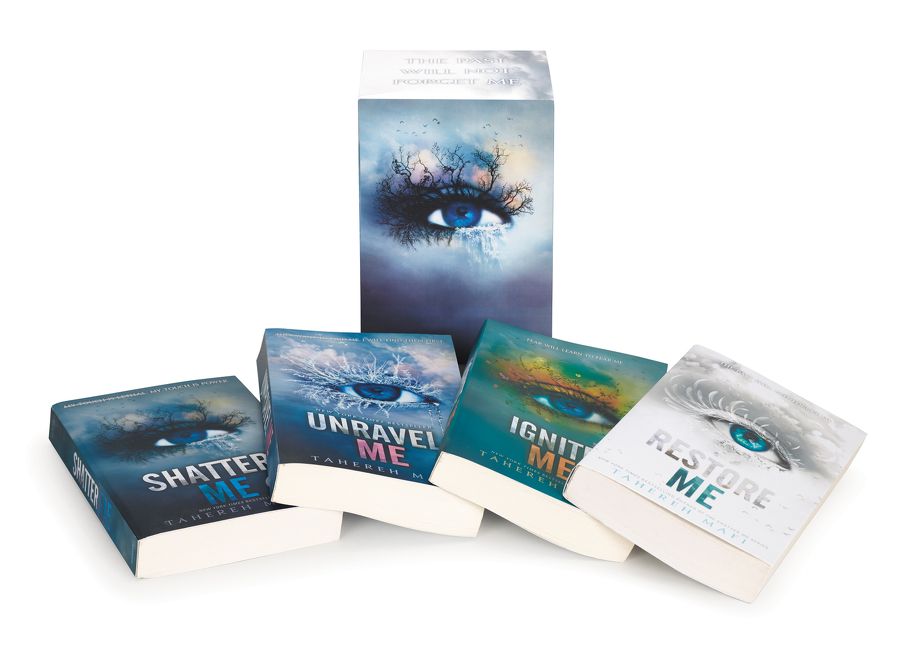 Let me start off by saying, I love this series. Before I read Abbi Glines's Sea Breeze Collection, before I read Sarah J. Maas's A Court of Thorns and Roses series, my little naïve teenage self thought Shatter Me was the sexiest book series I ever read. I loved the writing style, I loved how the writing makes the story feel fast-paced and very engaging. The character development was amazing and these characters felt so real. So yeah, I loved it.
It's been a while since I read this series, and since I'm a little behind as well, I don't want to give the plot away and spoil anything, so all I'm going to say is that this book series is about a girl named Juliette who has this special ability where, if she touches someone, they die. After being locked up, she's finally released into this dystopian world, where she encounters the greatest people she will ever meet …
… and the worst.
The best way I can describe this series (for those who haven't read it and are intrigued) is an X-Men meets every cliched Young Adult love story you've ever read.
I haven't read any of Ahdieh's books before, though I have both books in The Wrath and The Dawn series and I'm really looking forward to reading them. Flame in the Mist has been on my wish list for a while and I couldn't resist knowing that this book was on sale.
By reading the plot of the book, it seems to me that this book is a Mulan retelling, which I'm excited about because I am a sucker for fairy tale retellings. I also know that this wouldn't be the first retelling by Ahdieh, since The Wrath and The Dawn was a A Thousand and One Nights retelling.
Flame in the Mist is about a girl named Mariko who doesn't have a say in her life because she's arranged to get married to a man she never met. When she is sent to meet her future husband, a group of bandits called the Black Clan are assigned to kill Mariko. Mariko survives, but now she longs for revenge. She then dresses up as a peasant boy and infiltrates the Black Clan in order to find out who set her up, where she proves to be a skilled warrior and falls in love … sounds familiar?
I've been wanting this book for so long! Plus, I really love this cover! This may be an unpopular opinion but I personally love it when the front covers display the characters. Being a film lover, these covers remind me of what a movie poster usually looks like, so naturally, I'm hooked.
Rebel of the Sands is the first book in the series and it's about a girl named Amani Al'Hiza, a bad-ass gunslinger who's stuck in her town and longs to escape. After meeting Jin in a shooting contest, she sees him as her only escape. And then shit goes down here I guess? The plot summary on Goodreads mentions djinns, a rebellion, romance and a powerful heroine, so, I mean, I'm down!
Plus, I don't know if you've ever read Blood Red Road by Moira Young, but the title and plot summary kind of gives me Blood Red Road vibes (Reminder: I haven't read Rebel of the Sands so I'm not 100% sure, this is just a prediction!), which is why I was drawn to this book (and its cover!).
But on a side note, if you love a good story with a kick-ass heroine in the desert and some suave male characters, I highly recommend Blood Red Road!
This is the second book in White's The Conqueror's Saga and the first book in this haul that I'm actually caught up in. I read the first book in the series, And I Darken, back in high school and I enjoyed it, however I didn't want to buy the next book immediately because it just came out and I prefer buying hardcovers at a discounted price. So instead I waited, and I'm glad I did because I got such an amazing deal on this hardcover!
To prevent any spoilers, I'm going to summarize the first book, as the second book is a continuation to the series and this summary will kind of give you an idea of what this series is about.
And I Darken is about a girl named Lada Dragwyla and she's a bad-ass princess. She's a part of the royal family in Wallachia with her brother Ragu, who's the complete opposite of her (which is problematic because this is the time where boys are supposed to be warriors and girls are supposed to be wives). Lada and Ragu are sent to live with the Ottomans, and though Radu enjoys his time there, Lada doesn't. There, they meet Mehmed, the son of the sultan, who becomes Radu's friend and Lada's … complicated friend. But soon, all three of their relationships become complicated.
If you like stories with blood, violence and a kick-ass heroine fighting for power in a male-dominated society, then you may want to check this one out.
And if my summarizing wasn't intriguing enough, then you should be intrigued because this book is a gender-swap retelling of Vlad the Impaler (I don't know much about him except that he was the guy who inspired Bram Stoker's Dracula).
This is the second book in the Kingdom On Fire trilogy by Jessica Cluess. I have the first book in the series, which of course, I haven't read. I might as well just stock up and buy the second one so I can eventually binge-read the series.
Bonus point: These covers are absolutely stunning, which is kind of the reason why I bought the first book in the first place.
Again, due to spoilers, I will paraphrase the plot summary to the first book, A Shadow Bright and Burning, to give you an idea of what this series is about and to keep me away from spoiling the books for myself.
A Shadow Bright and Burning is about a sorceress named Henrietta Howel, the first female sorceress actually. She goes to London to train with other sorcerers, where three men are destined to play a role in Henrietta's life. Henrietta is also destined to be the prophesied one, but when she discovers the secrets about being a sorcerer, she's not so sure she fits the role.
I love fantasy stories with witches and apparently the setting is Victorian England so I'm really looking forward to reading this one!
This is the second book in the Arc of a Scythe series. You probably guessed it by now that I have the first book, Scythe, but that I haven't read it yet, and guess what? You are absolutely right!
And if you're expecting me to summarize the first book in the series to prevent any spoilers, you're right again!
Scythe is a seemingly utopian world where there are zero problems in society. No war, no hunger, no problems. There's not even death–well, not exactly. The only death that occurs is by the scythes, people who kill in order to control the population. Citra and Rowan are the next scythes, and even though they wish they could refuse the role, it's either they learn to kill or they will be killed.
This book reminds me slightly of The Hunger Games, and since that book trilogy is my all-time favourite, I had to pick up this series.
And that's the end of my book haul!
Let me know in the comments below what your recent book purchases were or what your thoughts are on any of these books. Have you read them? Are you going to read them? Did you enjoy them? Do you have any book recommendations for me based off these books?